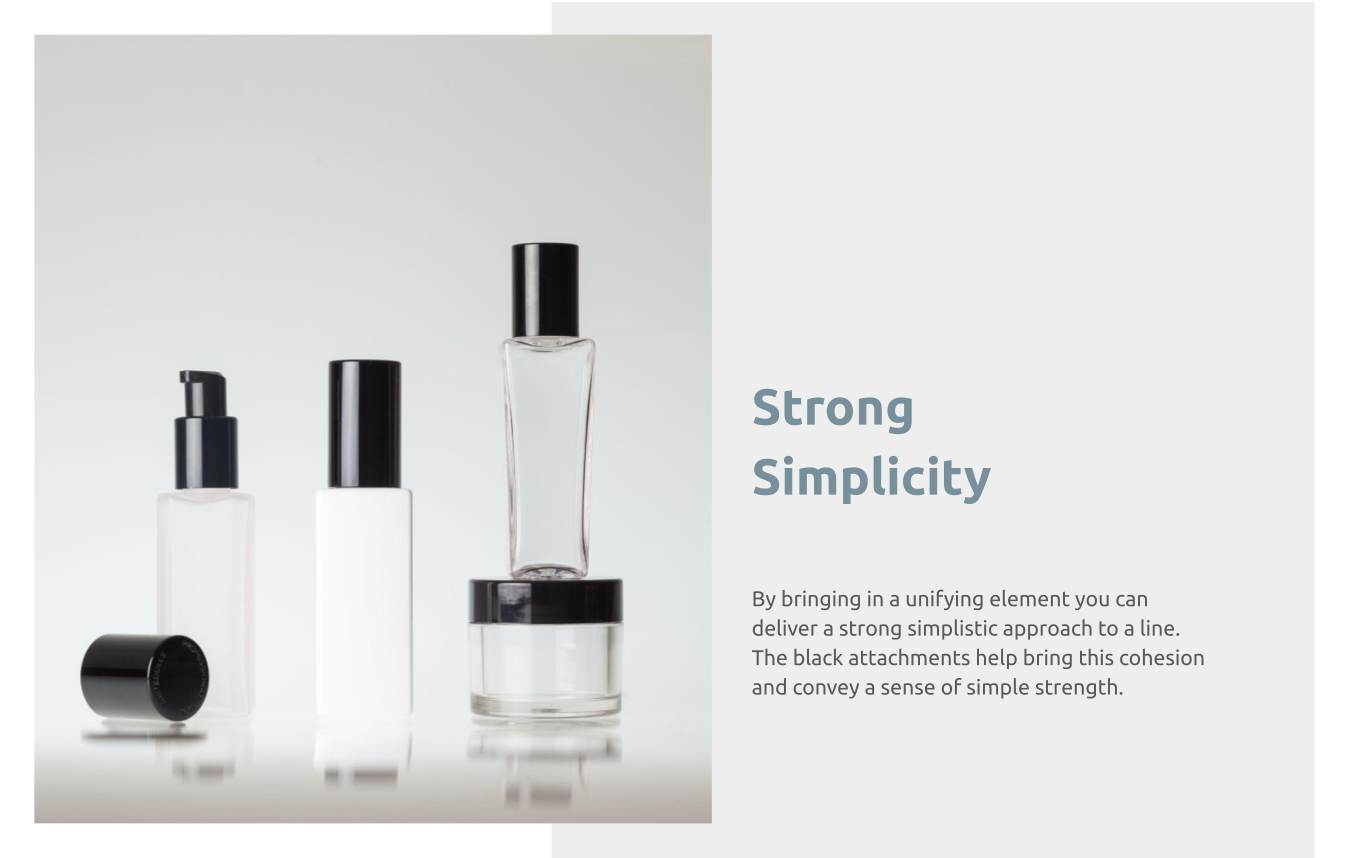 #100 LOOKS OF EPOPACK - LOOK 002
The strong simplicity look-
A set of cosmetic packaging that embodies strong simplicity, featuring clean lines and minimalist design.
This packaging is free of unnecessary embellishments or distractions, focusing instead on the product inside.
The color scheme would be neutral and calming and the black accents give the packaging a strong and sophisticated look which makes it suitable for high-end beauty products.
The material used is recyclable PET and for those wanting to push their sustainability even further it is also available in 100% PCR PET. The heavy wall style adds to the overall sturdy and minimal aesthetic, making it the perfect packaging solution for any beauty product.
The square-like bottle shape adds a unique modern element, making it stand out from traditional round bottles. The packaging is versatile and allows for easy customization with printing or hot stamping to add your brand's own signature touch.
The product information, like brand name, product name, and ingredients would be displayed in a clear, concise, and legible font which enhances the overall aesthetic of the packaging.
The simple and elegant design is sure to catch the eye of consumers. Make your product stand out on the shelves and entice them to give it a try.
EPOPACK, the leading provider of storytelling packaging, is excited to release 100 looks of cosmetic packaging as an inspiration tool. This collection showcases the latest trends in design and innovation, offering a wide range of options for those looking to enhance their product's packaging.
From minimalist and chic, to bold and eye-catching, the 100 looks are sure to provide inspiration for all types of beauty products. Each look features a different combination of materials, colors, shapes, and finishing techniques, allowing customers to choose the perfect match for their brand's identity.
This tool is a valuable resource for anyone looking to elevate their product's packaging and stand out on the shelves. Whether you're launching a new product or looking to refresh your existing line, 100 looks of EPOPACK is the perfect place to start.
Contact us to chat with a team of experts to find your dream packaging. Email: amy@epopack.com